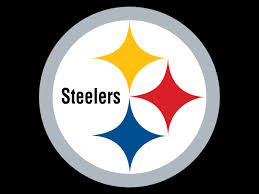 The Pittsburgh Steelers defeated the Cleveland Browns 21-18 in their season opener Sunday. Antonio Brown caught 11 passes for 182 yards. Tight end Jesse James caught two touchdown passes from Ben Roethlisberger. The Steelers defense had seven sacks, including two by rookie T.J. Watt. The Steelers were heavily penalized in the sloppy game. 13 penalties for 144 yards. Running back Le'Veon Bell was held to 10 carries and just 32 yards. He had a career-low four carries for eight yards in the opening half.
The Steelers host the Minnesota Vikings in their home opener this Sunday at 1pm.
Sunday's game was the start of quarterback Ben Roethlisberger's 14th season, tying him for with seven others for second-most behind Mike Webster's 15 years. (Mel Blount, Terry Bradshaw, Larry Brown, Donnie Shell, John Stallworth, Ernie Stautner and Hines Ward.) His 263 passing yards against Cleveland moved him past Fran Tarkenton for ninth on the NFL's all-time passing list.
The Steelers signed defensive lineman Stephon Tuitt to a $60 million contract extension over the weekend. Tuitt didn't make it through the first quarter Sunday, when he injured his left biceps after two plays.
The Baltimore Ravens defeated Cincinnati 20-0 Sunday in the other AFC North Divisional game.
In Sunday Night Football: Dallas defeated the New York Giants 19-3.
There are two Monday Night Football games tonight: Minnesota will host the New Orleans Saints at 7:10pm. Denver will host the Los Angeles Chargers at 10:20pm.