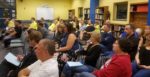 The South Butler School Board has chosen to negotiate only with the district's current transportation provider for student bus service.
The board first considered a motion that would have put out a request for proposal (RFP) from W.L. Roenigk as well as another company that had expressed interest in getting the contract once the current deal is up at the end of this school year.
That motion failed by a vote of 4-3 with Matthew Cimbala, Debra Miller and George Zacherl voting in favor, and Donna Eakin, Rebecca Boyd, Jill McDonald, and Linda Rieck voting against. Board members Jacqueline Pfeiffer and Bob Goodlin were not present.
Those voting in favor thought issuing the RFP was doing due diligence on what is expected to be a multi-million dollar deal, while those voting against pointed to Roenigk's years of quality service for the district as reason that a change did not need to be made.
Following that vote, a second motion was put forward instructing Superintendent Dr. David Foley to assemble a committee to enter into exclusive negotiations with Roenigk, who has been South Butler's transportation provider since 2002. That motion passed by a vote of 6-1, with Zacherl casting the only dissenting vote.
Employees of Roenigk in attendance thanked board members for their vote and expressed confidence that a fair deal could be reached.
The date for these talks has yet to be determined but Foley is expected to ask members of the school board transportation committee to participate, as well as select administrators. Any deal that would be agreed to would then come back before the full school board for approval. The board could still choose to issue an RFP if negotiations with Roenigk are unable to find a common ground of agreement.
Written By: Ryan Saeler for the Butler Radio Network 
The post S. Butler Board Decides To Stick With Roenigk appeared first on ButlerRadio.com – Butler, PA.