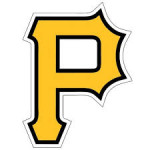 The Pittsburgh Pirates fell to the St. Louis Cardinals 2-1 for the second-consecutive night. Starting pitcher Chad Kuhl allowed two runs on just three hits over six innings for the Pirates, but took the loss. The Pirates had 11 hits, but left nine men on base. Jordy Mercer had three hits, Andrew McCutchen and David Freese had two hits each. The Pirates fell to 6-8 overall and are three games behind first-place Cincinnati in the Central.
The Pirates will try to avoid a sweep today at 1:45pm, Gerrit Cole starts for the Pirates against Michael Wacha for the Cardinals.
Major League Baseball has suspended Pirate outfielder Starling Marte for 80 games after he tested positive for a steroid. The Pirates recalled Jose Osuna who had a strong spring training. He pinch hit into a double play in his first major league at-bat last night. Andrew McCutchen moved back to centerfield for last night's game.