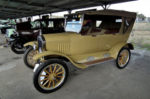 You'll have an opportunity this weekend to see some classic Model T's as the Model T International Annual Tour comes to Butler County.
President of the Western PA Model T Ford Club Simon Neubert says more than 200 antique cars are starting to make their way into Butler beginning on Thursday.
"We're very excited to be bringing all these people from around the country, from all different types of backgrounds, to see little western Pennsylvania," Neubert said in an interview.
The tour's theme is "History, Hills and Automobiles" and there are several events and activities associated with the convention. The best day for the public to get a peak at the cars is on Sunday, July 15, when the tour holds a kick-off Car Show at Roebling Park in Saxonburg.
"This will be the best time to really see the cars, and talk to their owners," he said.
The Model T convention will continue through next week, culminating on Friday, July 20 with a stop at the Butler County Ford Dealership on Main Street in Butler, which is one of the few original Model T dealerships still in operation today.
The post Model T International Tour Stops In Butler County appeared first on ButlerRadio.com – Butler, PA.