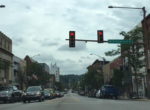 The public is invited to attend a meeting to learn more about the architectural and historic district planned for downtown Butler.
Discussions began in the spring about establishing the Historic District in Butler's Ritts Park neighborhood.
Butler City Council approved a resolution back in June to declare their intent to create the district, and a rezoning of the area was approved in September.
A meeting on Thursday at 6:30 p.m. at the Butler City Building will explain more.
"It's an informal review of the Architectural Review ordinance. We're still working on it," Butler City Councilman Jeff Smith said in an interview. "There's been a group in the neighborhood that's been helping with it. We now just want to give the people that live there, the homeowners, an update on what it is and maybe equally important, let them know what it's not."
Smith says this ordinance will not deal with maintenance, repairs or painting. Instead, it will deal with changing architectural features. He says this will benefit the entire Butler community.
"The benefit for the community at large is it will preserve a portion of our history in the city. That's obviously a good thing," Smith said. "Equally as important, maybe even more important, is it will make people who are considering moving to Butler comfortable that if they move into this area, they know it is going to be preserved. Hopefully it will make it more attractive to new residents and just help the economic revitalization of the city."
The ordinance will next go to the city's solicitor for review before coming before Butler City Council for introduction in December.
Written By: Ryan Saeler for the Butler Radio Network 
The post Meeting To Discuss The Planned Architectural District In Butler appeared first on ButlerRadio.com – Butler, PA.