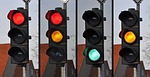 Butler Township has been awarded a large grant to complete a project that will improve local traffic conditions.
The township will receive an over $415,000 grant through the PennDOT Green Light Go program to modernize equipment at 17 traffic signals.
The money will be used for signal controllers, vehicular and pedestrian signal heads, push buttons, emergency preemption and radar detection.
According to Township Manager Ed Kirkwood, the locations of the signals to be replaced are along the Route 68 corridor, the New Castle Road corridor, Hansen Avenue and North Main Street. Once this project is completed, all equipment 20 to 40 years old will have been replaced.
Application was made for the award sometime last year. A total of 70 municipalities across the state received a combined over $31 million as part of this 4th round of funding. The Green Light Go Project is funded through Act 89 and will be managed by PennDOT.
Written By: Ryan Saeler for the Butler Radio Network 
The post Butler Twp. Signals To Get Improved appeared first on ButlerRadio.com – Butler, PA.