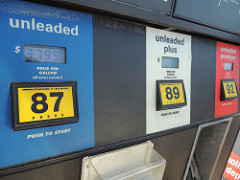 For the first time in a long time, gas prices in western Pennsylvania have decreased in the last week.
According to AAA's weekly gas price report, the average price for a gallon of regular, unleaded, self-serve in Butler is $2.97 per gallon. That's two cents cheaper than last week.
As for western Pennsylvania as a whole, prices are about a penny cheaper this week averaging $3.03 per gallon. The cheapest gas in the area can be found in New Castle at $2.90 per gallon, while the most expensive is $3.16 in Brookville.
With summer driving season on the horizon, this decline in gas prices could end up being a temporary break before additional increases.
This week's average prices: Western Pennsylvania Average               $3.036
Average price during the week of April 15, 2019                                    $3.042
Average price during the week of April 23, 2018                                    $2.973
The average price of unleaded self-serve gasoline in various areas:      
$2.939      Altoona
$3.003      Beaver
$2.995      Bradford
$3.166      Brookville
$2.974      Butler
$3.066      Clarion
$2.992      Du Bois
$3.082      Erie
$3.012      Greensburg
$3.072      Indiana
$3.091      Jeannette
$3.110      Kittanning
$2.992      Latrobe
$3.089      Meadville
$3.013      Mercer
$2.903      New Castle
$3.082      New Kensington
$3.067      Pittsburgh
$2.959      Sharon
$3.098      Uniontown
$3.087      Warren
$3.006      Washington
The post AAA: Gas Prices Decrease Slightly, But Don't Get Used To It appeared first on ButlerRadio.com – Butler, PA.